2019
Icarus 48 Hours:
186 Miles, New USATF Record, Second place overall, 2nd place female
Six Days in the Dome:
100K 10:47 USATF Age Record, 12 Hour 70 Miles USATF and World Record, 24 Hours: 118.47 miles
USATF Age Group Record, Second place overall, First place female.
Badwater 2019
New all time course record of 34:03 for females over 60 and finished first overall female in the 3 race Badwater Ultra Cup.
Keys 100 Mile
Overall: 17
GP: 7
1st age group
Out of over 220 runners, Pam came in 17th overall and 7th woman with a time of 21:22.
Badwater Salton Sea – 81 Miler – Salton City, CA
20:14:30
Overall:16 GP:2, Ist Female Group winner. Age Course Record 50 years plus
Mad City -100K- Madison, WI
11:30:52
Overall:14 GP: 3, USATF Road Champion 1st, 3rd overall female, 1st Masters Female Winner
Badwater Cape Fear – 51.4 – Bald Head Island, NC
10:02:00
Overall:22 GP:5
---
2018
Across The Years – 48 Hour – Phoenix, AZ
153.271
Overall:4 GP:3, USATF Age Record, Age Course Record
Kansas Rails-to-Trails Extravaganza – 100 Miler- Ottawa, KS
20:58:24
Overall:5 GP:1 USATF Record, 1st Female overall, Age Course Record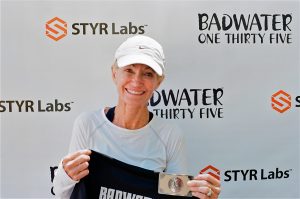 Badwater 135 – 135 Miler – Death Valley, CA
34:30:53
Overall:19 GP:6 1st Age Group, Age Course Record
Fans – 12 hrs – Minneapolis, MN
65.2
Overall:6 GP:4 USATF Age Record, 1st Age Group, Age Course Record
Umstead -100 Miler- Raleigh, NC
23:58:03
Overall:40 GP:6
Badwater Cape Fear -51.4 Miler- Bald Head Island, NC
9:49:00
Overall:31 GP:6 1st Age Group, Age Course Record
---
2017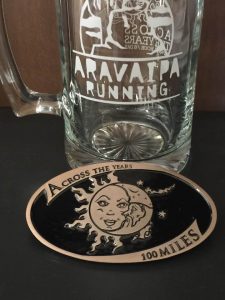 Across The Years-24 Hour- Phoenix, AR
109.17
Overall:5 GP:3 USATF 24 Hour Age Record 1st age Group, Age Group Course Record
The Daytona 100– 100 Miler-
21:07:54
Overall:21 GP:8 1st Age Group, Age Course Record
Arkansas Traveler-100 Miler- Perryville, AR
25:33:29
Overall:28 GP:5 1st Age Group, Age Course Record
Tahoe 200 Endurance Run– 200 Miler- Homewood, Ca
98:56:30
Overall:115 GP:25
Badwater 135 – 135 Miler- Death Valley, CA
35:48:31
Overall:23 GP:3 1st Age Group Age, Group Course Record
Keys Ultras– 100 Miler- Key Largo, FL
25:25:32
Overall:50 GP:15 1st Age Group Age Course Record
Austin Rattler Run-66K-Smithville, Tx
8:50:45
Overall:45 GP:11 1st age group, Age Group Course Record
Badwater Cape Fear– 51.4 Miler- Bald Head Island, NC
10:14:02
Overall:48 GP:12 1st age group Age Group Course Record
---
2016
The Daytona 100– 100 Miler- Atlantic Beach, FL
21:29:59
Overall:22 GP:7 1st age group Age Group Course Record
Javalina Jundred-100 Miler- Fountain Hills, Az
24:53:59
Overall:104 GP:18
Badwater 135– 135 Miler- Death Valley, CA
41:02:04
Overall:57 GP:14 1st Age Group Age Group Course Record
Badwater Salton Sea-81 Miler- Salton City, CA
22:34:00
Overall:44 GP:15
Brazil 135-135 Miler- Campinas, Brazil
43:42
Overall:15 GP:3 1st Age Group Age group course Record
---
2015
NorthCoast 24-Hour Endurance Run-24-Hrs- Cleveland, OH
90:1246
Overall:43 GP:10
Keys Ultras-100 Miler-Key Largo, FL
27:28:00
Overall:59 GP:16 1st Age Group Age Group Course Record
Rocky Raccoon-100 Miler- Huntsville, TX
26:56:44
Overall:158 GP:311st age group Age Course Record
---
2014
Brazos Bend– 100 Miler- Needville, Tx
26:45:02
Overall:36 GP:6 1st Age Group Age Group Course Record
Keys Ultras-100 Miler- Key Largo, FL
27:14:41
Overall:73 GP:15
---
2013
Houston Running Festival-100K-Houston, TX
13:55:53
Overall:1 GP:1 age Group Age Group Course Record 1st place overall male and female
Keys Ultras-100 Miler- Key Largo, FL
25:11:49
Overall:25 GP:7 1st Age Group Age Group Course Record
---
2012
Peanut Island 12 Hour Race– Peanut Island, FL
50:62
Overall:3 GP:2 1st Age Group Age Group Course Record
Keys Ultras-100 Miler-Key Largo, FL
25:31:01
Overall:40 GP:8 1st Age Group Age group Course Record
---
2011
Rocky Raccoon-100 Miler- Huntsville, TX
28:45:07
Overall 161 GP:30